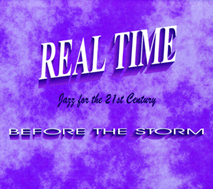 Welcome to Real Time... Jazz for the 21st Century!

Come on in, listen, relax, & chill to the sounds of contemporary jazz compositions that switch from interesting swing feels, to lively latin grooves and back again.

Here it is... the premier release of the new contemporary jazz ensemble Real Time and their debut CD "Before the Storm"